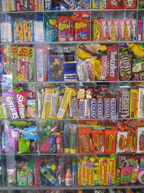 In order to do all of the things we do throughout our lives, our bodies rely on a combination of carbohydrates, proteins, and fats, along with some essential vitamins and minerals. But while carbohydrates that come from foods like potatoes, bread, and squash provide the energy our bodies need, that energy truly comes from sugar. Our bodies break down carbohydrates into glucose (sugar) for proper processing. Straight sugar (ie: from your soda), are a faster way for your body to get the energy it
thinks
it needs. This is why sugar is such a huge problem in this country and across the world. When we can get so much sugar so easily, we process far more than our bodies need! Unfortunately, those same bodies that crave sugar suffer as a result.
Insulin, which many people know only in its relation to diabetes, is actually the vehicle your body uses to deliver glucose energy to your cells. Sugar triggers the production of insulin so that the sugar can be used. However, too much sugar will produce enough insulin that your cells will become resistant and the sugars are left to wander through your bloodstream, eventually leading to diabetes or weight gain.
Natural sugars can be found in a variety of fruits and vegetables (along with the carbohydrates that break down into glucose), but in vastly smaller quantities than we get from sweetened drinks and candies. One 20 oz bottle of soda has the same amount of sugar as eleven servings of strawberries, but without the filling quality of those fruits. Sugar is not something that can or should be completely cut out of a diet, but since it's found naturally almost everywhere, added sugar is unnecessary and potentially very harmful!
● Sugar is easily processed, which causes a flood of insulin.
● Sugar's relationship with insulin is a leading cause in the rise of diabetes.
● Insulin in the blood blocks your body's natural ability to tell when it's full, leading to overeating.
● Sugar is a leading cause in Fatty Liver Disease.
Resources:
http://www.mindbodygreen.com
;
http://www.huffingtonpost.com/brandon-drenon/eat-more-food-and-less-ca_b_5322104.html
;
http://www.pbslearningmedia.org/
;
http://www.womenshealthmag.com/
; http://www.sugarstacks.com/ ;