Roasted Cauliflower and Chickpeas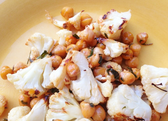 Going with our gluten-free theme, we'll share an amazing gluten-free dish. Roasted Cauliflower and Chickpeas are a savory side dish that go along with just about any meal and pack up perfectly to be eaten room temperature for lunch at the office the following day!
Ingredients
14-ounce can chickpeas, rinsed and drained and dried in a kitchen towel
1 head of cauliflower, outer leaves removed and discarded, cut into bite-sized floret
Extra virgin olive oil
Coarse sea salt
1 tablespoon Dijon mustard
1 tablespoon seeded mustard (I left out)
1 tablespoon white wine vinegar
Freshly ground black pepper
1/4 cup chopped Italian Parsley
Directions
Preheat the oven to 400 degrees. Toss the chickpeas and cauliflower together in a large roasting pan with 3 tablespoons of olive oil and a big pinch of salt. Roast, stirring now and then, until everything is dark and the cauliflower is quite soft, about 45 minutes. Meanwhile, whisk together the mustards, vinegar, and 1/4 cup of olive oil with a big pinch of salt and a few healthy grinds of black pepper. While the chickpeas and cauliflower are still warm, toss them with the mustard dressing and the parsley. Serve warm or at room temperature.
References:
What Lola Likes Lola Shares
---
---
All Natural Fruit Roll-Ups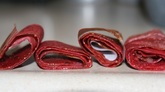 Summer calls for picnics, which can put a dent in your healthy living. Move aside potato chips and M&M's, this healthy and tasty alternative is about to take over your lunch boxes and picnic baskets!
Ingredients
3 cups of fresh Strawberries
1 tablespoon agave or honey
Blender/Food Processor needed
Directions
Preheat your oven to 250 degrees. Place a piece of parchment paper on a baking sheet. Add the three cups and agave to your blender or food processor and blend until smooth. Add the mixture to your parchment paper and spread out to make an even layer. Place in oven for about 2 hours (watch it because all ovens are different). Take out of oven to cool/even overnight and once cool and completely dry, cut out strips with scissor. Roll up the parchment paper and stick the
fruit
y snack into your kids/your lunch :) Enjoy!
References:
What Lola Likes Lola Shares
---
---
CLEAN EATING 'PEANUT BUTTER ICE CREAM'


When it starts getting warm outside we need to cool down from the inside out! Rather than grabbing a pint of ice cream, throw together this homemade healthy soft serve! The most labor intensive part is waiting for the bananas to ripen!
Ingredients
(1 serving)
1 large very ripe banana
1 scoop of all-natural peanut butter
Optional: Peanuts, chocolate chips, almonds
Directions
Peel bananas and slice into 1/2 inch discs. Arrange banana slices in a single layer on a large plate or baking sheet. Freeze for 1-2 hours. Place the banana slices in a food processor or powerful blender. Puree banana slices, scraping down the bowl as needed. Puree until the mixture is creamy and smooth. Add the peanut butter and puree to combine. Serve immediately for soft-serve ice cream consistency. If you prefer harder ice cream, place in the freezer for a few hours. Sprinkle with your favorite toppings and enjoy your clean treat!
References:
Two Peas and Their Pod
---
---
_

HEALTHIER PEANUT BUTTER COCONUT OATMEAL COOKIES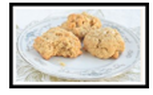 _
The whole-wheat flower, high-protein peanut butter, high-fiber oats, and reduced sugar make these cookies a healthier baked-goods option to give or indulge in during the holidays. But remember, everything in moderation!
Ingredients:
2/3 cup canola oil
1/2 cup natural, unsweetened peanut butter
1/4 cup sugar
3/4 cup brown sugar
2 eggs
1 tsp vanilla
1/4c coconut
3C oats
1 1/4 cups whole-wheat flour
1 tsp baking powder
1/2 tsp baking soda
Preheat oven to 375F. Beat together oil and peanut butter then beat in eggs, sugar and vanilla. Stir in coconut. In a separate bowl mix together oats, flour, powder and soda. Stir into peanut butter mixture but do not over mix. Drop onto a baking sheet in 1 1/2 tablespoons round. Gently press to flatten and bake for 10-12 minutes or until lightly browned.
(24-30 cookies)
Resource:
Daily Unadventures in Cooking,
posted by Katrina
---
---
LATE-SUMMER SQUASH SALAD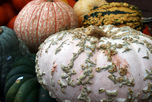 Try this gluten-free, low-carb salad compliments of
Smallpeace
. It makes the most of abundant, late-summer squash and zucchini. It's like a vegetarian Carpaccio! YUM!
Ingredients
4 mixed yellow and green summer squash & zucchini (1 lb total)
1/3 cup loosely packed mint leaves
3 Tbsp extra virgin olive oil
1 Tbsp fresh lemon juice
¼ tsp fine sea salt
¼ toasted sunflower seeds or pine nuts (unsalted)
Parmesan or Aagio cheese for shaving
Garnish with sprigs of mint
Directions
1. Using a mandolin or other slicer, shave the squash into paper-thin slices and set aside in bowl.
2. Cut mint leaves into very thin slivers and add to squash.
3. Combine the lemon juice, oil, and salt and pepper in a small bowl and whisk together. Pour the dressing over the squash, add the nuts, and toss all together thoroughly. Let mixture stand for at least 10 minutes to allow the squash to soften and the flavors to develop.
4. Transfer salad to serving dish. Garnish with shavings of cheese and a few sprigs of fresh mint.
Reference:
click here
---
---
SWEET SCENT OF HAPPINESS

This healing blend of floral and herbal essential oils will not only help brighten your spirits and balance your mood, it smells pretty great, too!
Ingredients
3 ounces almond oil
1 ounce jojoba oil
20 drops rose essential oil
10 drops clary sage essential oil
10 drops ylang ylang essential oil
Directions
Combine almond and jojoba oils with essential oils in a dark glass bottle. Store in a cool, dark place, and shake well before dotting it on your pulse points, adding it to your bath, or using it as a massage oil.
---
---
HEALTHY LUNCHBOX SOLUTIONS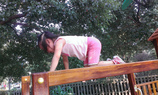 Give kids the get-up-and-go they need to make it through the day with a vitamin-packed, whole-foods lunch. Research shows that only one in 10 school lunch boxes contains food that meets nutritional guidelines for children. When you fortify your children with healthy food at school, they will be more likely to retain the lessons they learn (that goes for adults too!). Fresh fruits and vegetables provide color and crunch while delivering the beneficial nutrients they need. Plus, things like veggie wraps, fruit smoothies, and bean dips are fun to eat. So, give your kids something to look forward to at lunchtime with these suggestions-provided by
RealFoodMoms.com
- that your kiddos won't trade away!
•
Veggie Delight:
Hummus, avocado, tomato slices, sprouts and shredded jack cheese with optional honey or Dijon mustard in a whole grain pita pocket or wrap.
•
Yogurt Fruit Cup:
1 cup of plain Greek yogurt (or half yogurt, half cottage cheese), mixed with ½-3/4 cup fruit (blueberries, sliced strawberries, bananas), ¼ cup granola and 1 tablespoon agave
•
Mexican Salad:
Lettuce, tomatoes, sliced avocado, chopped olives, salsa, shredded jack cheese, re-fried beans (such as Amy's vegetarian re-fried beans) rolled into a sprouted corn tortilla (this one's messy, but worth it!)
Resources:
Physorg.com and Realfoodmoms.com
---
---
DELICIOUS DAILY PROTEIN SHAKE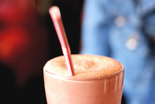 Drink once a day to support your
PURE Cleanse
regimen, or as a regular part of a healthy diet.
Ingredients:
• Almond/Rice/Hemp milk
• 1 package frozen mixed berries, unsweetened (good for weight loss), fresh apples (good for liver, high in fiber), or banana
• Organic nut butter (1 -2 tbsps) added to a bottle of water
• Sesame/hemp/chia seeds (good source of calcium and protein)
• Organic bee pollen (from a reputable source like www.livingtreecommunity.com) on the top
• Flax seed liquid oil from the bottle (2 - 3 tbsps); provides a healthy source of fat. Fat makes you feel full!
Directions:
Blend in your blender or food processor, using water or unpasteurized apple juice to adjust thickness. Enjoy!
---
---
EASY SAUERKRAUT RECIPE

Ingredients
1 head green or purple cabbage or 1/2 head of each

2 tablespoons Sea Salt
A Knife and Cutting Board (or mandolin or food processor) 

2 glass or ceramic bowls that fit inside one another (sterilize in boiling water or a dishwasher beforehand) 
Directions
Remove the outer leaves of the cabbage and reserve them to use later.
Slice the cabbage as thinly as possible.
Layer cabbage in dish and sprinkle each layer generously with sea salt.
Start the culturing process by pressing the cabbage down into the bowl as much as possible. This draws out the water.
Cover shredded cabbage with the whole cabbage leaves you set aside, then cover with plastic wrap.
Place the second ceramic or glass bowl on top of the cabbage leaves, weighting it down with a heavy vegetable or rock.
Over the first 24 hours, check the kraut 3 to 4 times, pressing it down each time to ensure that the water level rises to just above the cabbage; otherwise the pickling process will go bad. If after 24 hours there isn't enough water to completely cover the cabbage, mix 1 teaspoon of sea salt with 1 cup of water and use only enough of this brine to fill in the water line to just above the level of the cabbage.
The sauerkraut will take anywhere from 3 days to a week or more to ferment. Check it daily to watch its progress.
A funky, sulphuric aroma signals that fermentation is underway. You should also see a grayish mold forming over the top layer. This is normal and quite harmless.
Remove the top moldy layer and store in refrigerator. You can either cover the bowl that it's in, or transfer it to another tightly sealed glass container. Your sauerkraut will keep for months in the refrigerator. Enjoy as a side dish, on sandwiches, in salads, or on its own as a snack.
---
---

ANCIENT WEIGHT-LOSS TEA RECIPE
A centuries-old recipe used to dissolve fatty tissue, rejuvenate skin's youthfulness, and cleanse mucous from the colon, this tea is also an excellent source of vitamin C. Drink 2 or 3 glasses a day for weight loss.
Ingredients
1/3 cup fresh or ¼ cup dried mint leaves
2 cups cumin seeds
1 Tbsp fresh or concentrated tamarind
½ tsp black salt
4 lemons, sliced
½ Tbsp black pepper
3 liters filtered water
Tbsp fennel seeds (optional for flavor)
Directions
Combine all the ingredients in a pot and bring to a boil. Lower heat and continue to boil, covered, on low heat for 2 hours (add up to 2 cups water as liquid reduces). Strain. Serve hot or cold. Keeps up to 1 week refrigerated. Ingredients may be reused once to make more tea.
Reference:
Food As Medicine
by Dharma Singh Khalsa
---
MEN'S HEALTH: AVOCADO BREAKFAST

Serve him up a breakfast packed with a solid supply of healthy essential fatty acids—avocado, flaxseeds, and heart-healthy oil—crucial for anyone interested in building muscle, staying lean, and maintaining a healthy libido. The high fiber content of this dish is another plus!

Ingredients
2 teaspoons honey mustard
2 slices whole grain bread, toasted
½ avocado, peeled and sliced
½ tomato, thinly sliced
1 teaspoon extra-virgin olive oil or sunflower oil
½ teaspoon ground flaxseeds
Ground black pepper
Directions
Spread 1 teaspoon of the honey mustard on each piece of toast. Add half of the avocado and tomato to each slice. Drizzle each with the oil. Add half of the basil and flaxseeds. Sprinkle both with pepper (to taste).
Reference: Recipes.menshealth.com
---