ZINC AND MALE SEXUAL HEALTH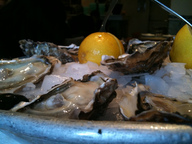 Zinc, a trace mineral, is necessary for maintaining a healthy immune system, and most commonly known for fighting soar throats. It is particularly important for men to get enough zinc in their diet, as it is required for normal prostate function. Potential fathers should consider that zinc levels are depleted on ejaculation; so replenishing your mineral supply may help increase sperm mobility. Zinc may also play an important role in fighting infection and inflammation of the prostate in older men.
It is possible to quickly reach toxic levels of certain trace minerals like zinc, especially if you are taking mega-dose supplements, so some general recommendations should be followed. Do not exceed the levels set by the Institute of Medicine (IOM), which suggests 15 milligrams per day for males over 11 years old.
Click here
for more specific intake facts.
Ultimately, however, you should strive to get all of your nutrients first and foremost from healthy food sources, including:
▪ Fish and shellfish (especially oysters)
▪ Hormone-free dairy products
▪ Peanuts and peanut butter, legumes
▪ Organic beef, pork, lamb, and dark meat of chicken (in moderation)
Resources:
http://www.lifeclinic.com/focus/nutrition/zinc.asp
http://www.ageless.co.za/zinc.htm#General%20information%20on%20zinc
http://www.livestrong.com/article/293328-zinc-and-male-fertility
---