KARMA YOGA: A PURIFYING PRACTICE

The Bhagavad Gita describes Karma Yoga as "the selfless devotion of all inner as well as outer activities as a Sacrifice to the Lord of all works, offered to the eternal as Master of all the soul's energies and austerities." In other words, Karma Yoga purifies our hearts by teaching us to act without thought of gain or reward. Only by detaching ourselves from the fruits of our efforts and offering them up to the greater good can we break the cycle of cause and effect known as Karma—and gain enlightenment. Below are some steps for getting you on the path:
1. Begin your day with a simple yoga routine and dedicate your practice to someone in need. It can be something as simple as sitting quietly for 10 minutes and listening to your breath or, for more advanced practitioners, going through a set of postures that pushes you outside your comfort set.
2. Act with humility and receive knowledge of the Self (Atman). Note any negative feelings (yes, we all have them) as they arise, such as hatred, jealousy, or lust, and let them float from your mind. In the knowledge that the Self is divine is freedom and love for others.
3. Perform a job or task as a form of worship. Offer your best effort. Be courageous and thorough. Do not worry about what others think. When you offer your service to humanity, good results will follow.
4. Be an instrument of service. Serve others with selfless devotion. Offer a smile or a hug to a neighbor in distress, volunteer at a shelter or donate food to a charity.
5. Make service to others a lifelong practice. Purifying and preventing bad karma is a worthwhile, lifelong commitment that positively impacts the world around us.
Resources:
The Principles of Karma Yoga
Karma Yoga Meditation
---
---
STRESS-LESS MASSAGE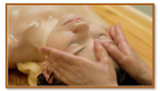 If you've had a stressful day, take 5 minutes to massage your head with cold-pressed sesame oil, or coconut oil if the weather is hot.
Directions
Take a comfortable, seated position.
Wrap a towel around your shoulders to protect your clothing.
Pour about 2 Tbsps of slightly warm oil into both palms.
Massage the oil into your head, front and back, like you are washing your hair for 2-3 minutes. Finish by gently tugging hair away from the scalp in handfuls to help stimulate circulation, breathing deeply as you do.
The properties of the oil will work a soothing magic deep into the layers of your skin, lubricating your joints, connective tissues, and drawing toxins out through the digestive system.
---
---
WHEN THE MOOD STRIKES...MOVE!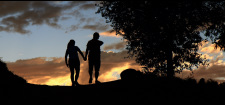 Mood-specific activities to feel happier, more balanced,
and motivated for life:
Stressed out or anxious?
30 to 60 minutes of mood-enhancing yoga
Fatigued or lethargic?
20 minutes of power walking or vigorous bike riding
Unfocussed or ill-at-ease?
Participate in sports that focus your attention, such as tennis or racquetball.
Sad or melancholy?
Steady, consistent exercise, like hiking or stair climbing
Unmotivated or sleepy?
Moderate weight lifting increases metabolism and boosts your mood.
Reference:
Exercises for Every Mood
by Nicole Darcey Straff (
Natural Society,
May 1, 2011)
---
---
YOUR BRAIN ON EXERCISE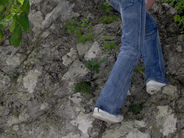 Did you know you could elevate your mood, beat stress, improve your memory, sharpen your focus, and feel better than ever simply by breaking a sweat? The science is irrefutable: Aerobic exercise physically rewires our brains for optimum performance.
In his groundbreaking book
Spark: The Revolutionary New Science of Exercise and the Brain
, John J. Ratey, M.D., provides emerging research that reveals how the benefits of exercise go way beyond just physical fitness. In fact, studies show that physical activity is our best defense against everything from depression to ADHD to addiction to anger to menopause to memory loss. "Aerobic activity has a dramatic effect on adaptation, regulating systems that might be out of balance and optimizing those that are not-it's an indispensable tool for anyone who wants to reach his or her full potential."1
From ever-expanding middles to erratic emotions, our bodies and brains crave more physical activity, so reach for those running shoes instead of that remote, turn off that laptop and get on to that yoga matt! You'll feel better for it.



Reference:

1

Spark: The Revolutionary New Science of Exercise and the BrainbyJohn J. Ratey, M.D

---
---
YOGA FOR DIGESTION
Yastikasana (Stick pose)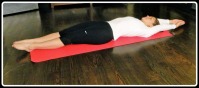 Lie on your back. Inhale, raising hands overhead, placing them together in a prayer gesture. Simultaneously, stretch legs toward opposite wall, toes pointed, to lengthen the stretch. Continue breathing.
Deliberately hold your breath for four counts, deepening the stretch before releasing it. Relax. Repeat three times.
Benefits:
This relaxing pose tones the spine, boosts digestion, and helps to relieve constipation.
---
Supta Udarakarshanasana (Lying Abdominal twist pose)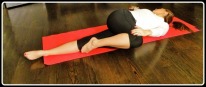 Lie flat on your back with legs together and arms extended away from your sides in a t-shape, palms down. Inhale.
Fold the right leg at the knee and place the sole of your foot on your left thigh. Exhale.
Press your right knee gently toward the floor with the left hand in a spinal twist to the left. Turn your head to the right to deepen the twist. Continue breathing.
Release the knee and return to starting posture. Repeat three to five times.
Repeat the above steps with the left leg.
Benefits:
The powerful transverse squeeze restricts and then causes a fresh gush of blood to the entire digestive tract. The liver is massaged and rejuvenated. It offers relief from constipation and aids weight loss.
---
---
Ardha Matsyendrasana* (Half Lord of the Fishes Pose)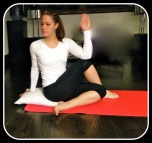 Sit on the floor with your legs straight out in front of you, buttocks supported on a folded blanket. Bend your knees, put your feet on the floor, then slide your left foot under your right leg to the outside of your right hip. Lay the outside of the left leg on the floor. Step the right foot over the left leg and stand it on the floor outside your left hip. The right knee will point directly up at the ceiling.
Exhale and twist toward the inside of the right thigh. Press the right hand against the floor just behind your right buttock, and set your left upper arm on the outside of your right thigh near the knee. Pull your front torso and inner right thigh snugly together.
Press the inner right foot very actively into the floor, release the right groin, and lengthen the front torso. Lean the upper torso back slightly, against the shoulder blades, and continue to lengthen the tailbone into the floor.
You can turn your head in one of two directions: Continue the twist of the torso by turning it to the right; or counter the twist of the torso by turning it left and looking over the left shoulder at the right foot.
With every inhalation lift a little more through the sternum, pushing the fingers against the floor to help. Twist a little more with every exhalation. Be sure to distribute the twist evenly throughout the entire length of the spine; don't concentrate it in the lower back. Stay for 30 seconds to 1 minute, then release with an exhalation, return to the starting position, and repeat to the left for the same length of time.
Benefits:
Energizes the spine and stimulates the digestive fire.
---
Resources:
YogaJournal.com "Pose Encyclopedia" by Jason Crandell
---
HELPING HAND FOR TUMMY ACHES
Giving yourself a quick reflexology hand massage can bring needed relief from indigestion by warming up the "reflex" points linked to your digestive organs.
Below are three key areas you'll want to pay special attention to:
1. Sinus point = The fleshy base of each finger.
2. Lung point = The upper palm, starting approximately one inch from the base of your fingers and ending just below the start of your fingers.
3. Spine point = The boney base of your hand to the top of your thumb.
Start by gently massaging each finger, beginning at the base pad and working up each digit in turn. Light pressure will help ease acid in the throat, where indigestion usually starts.
Next, make delicious circles around each of your palms, helping to release gastric acid and bring relief.
Finally, work from the base of your right hand to the top of your thumb, before starting work on your left hand. This will relax your entire nervous system and promote healthy digestion.
Hand reflexology pioneer Kevin Kunz recommends rolling a golf ball around the palm of the hand as a great source of energy releasing power. The energy release will benefit the adrenal glands, stomach, kidneys, solar plexus, and pancreas.
Refer to the following article (
click here
) and map below for more precise reflexology points, their corresponding organs, and hand reflexology's many benefits. Enjoy!