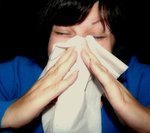 Colder weather generally signals the upcoming cold and flu season, but did you know that it's not the cold weather that makes you susceptible?
The viruses that make us feel so gross this time of year enjoy the heat so are actually a result of the much closer quarters we share with everyone while we try not to go outside! Keep your immune system ready and your body healthy by following these tips for the season.
Wash your hands! Just like your mom used to say, washing your hands frequently, and especially before meals, is one of the best ways to make sure you'll stay healthy.
Get your flu shots! Immunizing yourself against the flu will not only keep you happy and healthy throughout the season, it will also help prevent the spread of the viruses to others.
Get enough sleep! Healthy sleeping habits lead to a healthy immune system. If you are avoiding a good night's rest, you may be putting yourself at risk for a nasty cold.
Keep exercising! Maintaining healthy habits will keep your body in shape to fight off the cold and flu viruses of the season.
Eat right! Make sure that your body has all the help it can get in the form of proper nutrition. Maintain your intake of essential vitamins and minerals, and limit your intake of sugars.
Smoking and drinking won't help. Both nicotine and alcohol disrupt sleep and health habits alike, which make them enemies of the season.
Look into the benefits of a Colonic! When the body encounters allergies or germs, it wants to get rid of these toxins by producing body fluids; hence the sneezing, watery eyes and noses during allergy season. The colon plays a role in throwing out toxins but if it is backed up, symptoms can intensify and affect the rest of body.